I did not mean for every License Hell column to be on a webcomic turned video game, but somehow I keep falling ass backwards into them.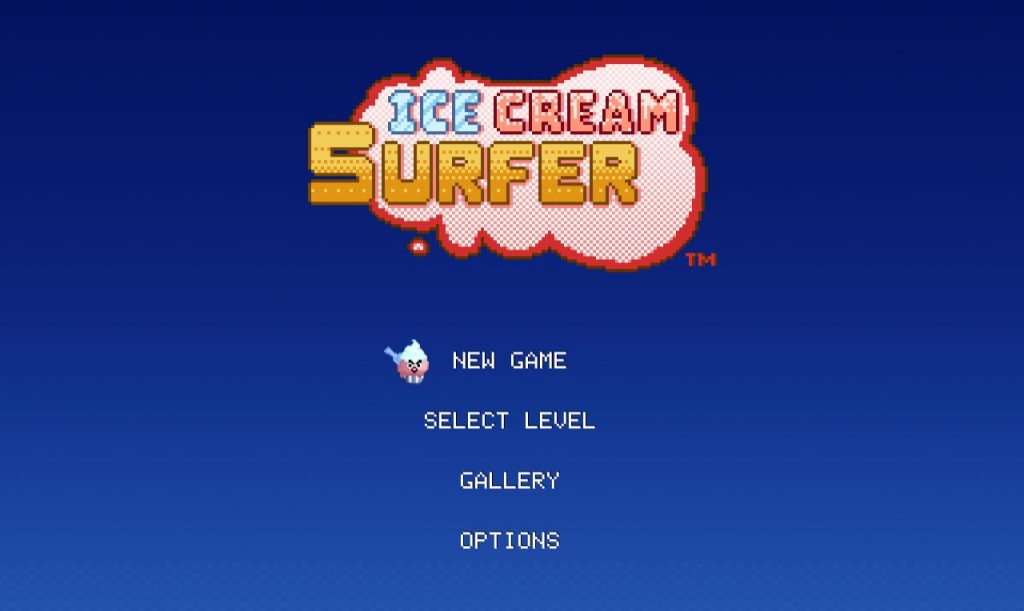 Playing around with the "random" button on Steam with a pal one night led to both of us discovering that a) this game existed and b) I owned it. In need of a quick mark in the win column, I figured a cute-em-up would be the ego boost I was after. Buuuuuuut there were two problems with that.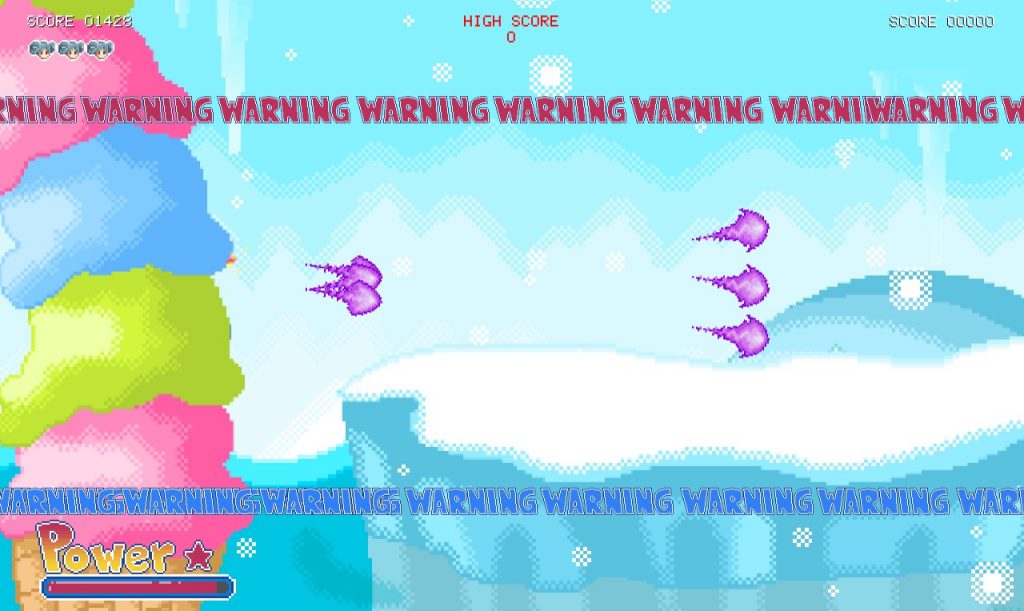 The first is that this game controls impossibly poorly. There was a single patch note for the game on Steam which simply read "Error control solved – 3/8/2016. This new release solve the problem with the pad control." This was a lie – no matter how I bound the controls (and this is an early Unity title, so there were control options in and out of game!), I could never get them to stop feeling floaty and stuttery. Seriously, it's really hard to explain, because the framerate is pretty consistent, but you just don't stop moving a lot of the time. Given that character hitboxes are also questionable, this leads to a lot of deaths.
I tend to agree with the opinion that in the shoot-em-up1 genre, you haven't beaten most until you can one-credit clear a title, especially a lot of modern titles where this is the only way to unlock the "true" final boss. Just spamming "continue?" or pumping credits isn't really a clear… buuuuuuut I absolutely did that on this game and I'm still going to count it because of the other reason.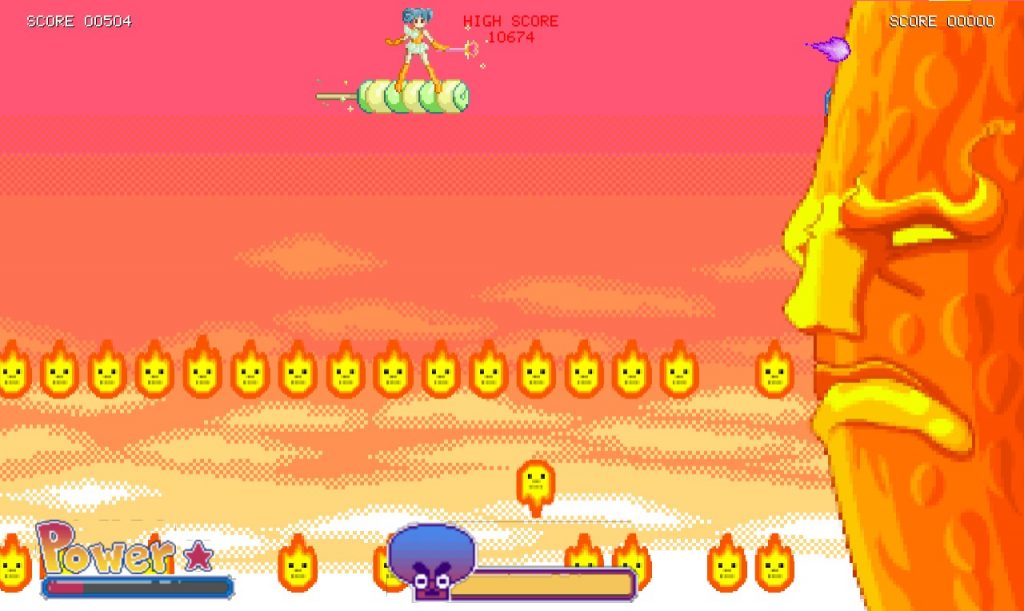 The final two stages of this game are utterly hateful. The fifth of six introduces a lot of invincible enemies and culminates in a boss who is pure RNG, the is-that-a-sun you see in the above screenshot. All you must do to defeat him is simple on paper: he has 4 throbbing… somethings… appear on his face, you shoot them before time runs out, and he opens his mouth, a weak point you can shoot to lower his health bar at the bottom of the screen. (Which has 3 bars, I'll point out.)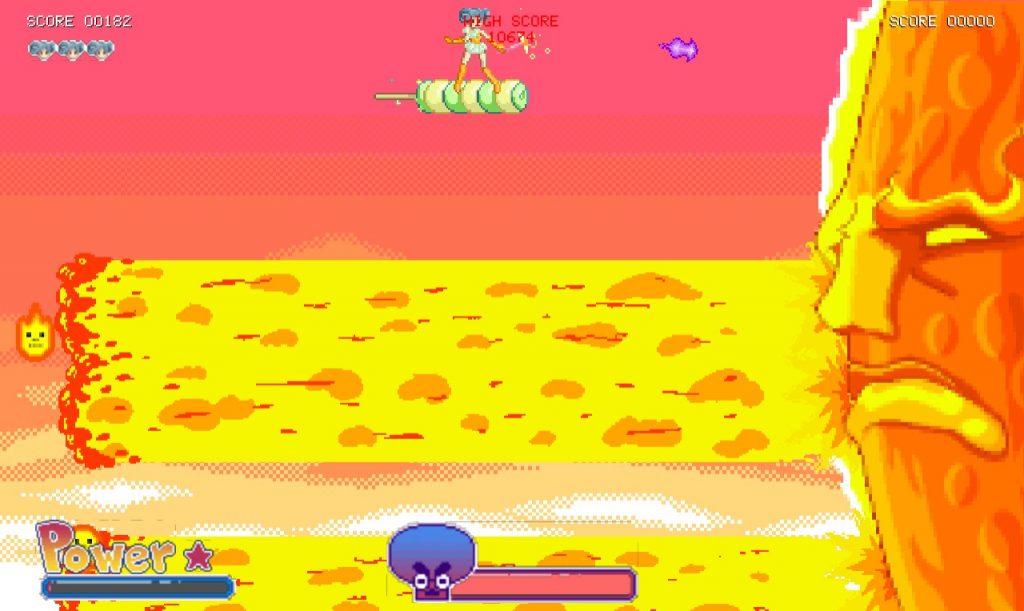 The problem with this is that if you die, you go back to a level 1 character, and this means that depending on your character2, you're VERY CLOSE TO UNABLE to kill his throbbers before they explode. If he spread them out too far, I just killed one and got out of the way, because between movement and the fact that I had to be on top of them to fire fast enough, it was too risky. I would also like to mention at this point there is no autofire whatsoever in Ice Cream Surfer, so by stage 5 my thumb was real tender from mashing for every single shot in the game.
You can't even credit-feed him to death because if you game over, this game is checkpoint based. Your three lives are your only three hits to take out this boss, and if you lose them, have fun restarting the entire thing from his lifebar at full.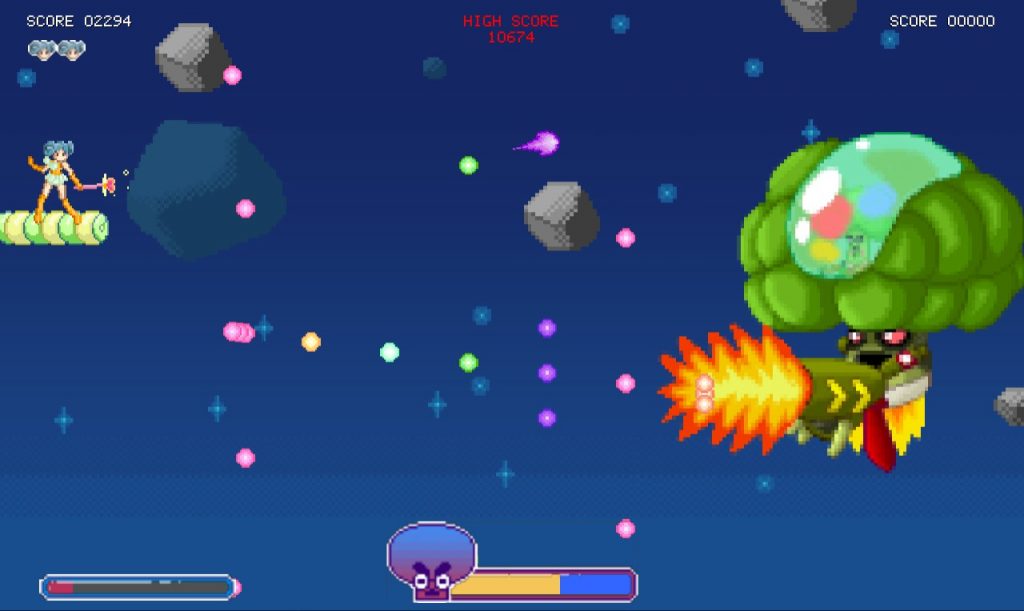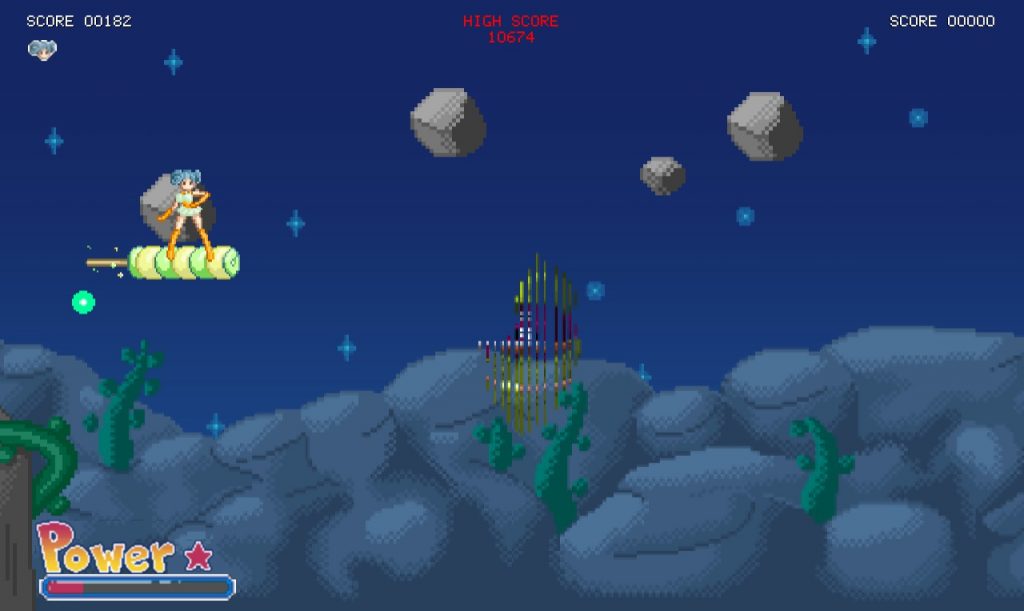 And then there was the final stage, where credit feeding became even less workable because it had no checkpoints whatsoever and was a gauntlet of bad design. A recurring boss who has attack patterns these controls/characters were not designed for, teleporting enemies who can just gank you if they choose to spawn inside you, and it's the longest one in the entire game, all to be done on three lives. I will be entirely honest and admit that because of this, I cracked open Cheat Engine and locked myself to a permanent 1 life for the rest of the game just to get this over with. Were it not for that I probably wouldn't have any screenshots – it became incredibly challenging to hit the key and not die, and only with the ability to die at will did I not care anymore and F12ed away.
And then I cleared the game and got to see something that led me down a weird, weird rabbit hole.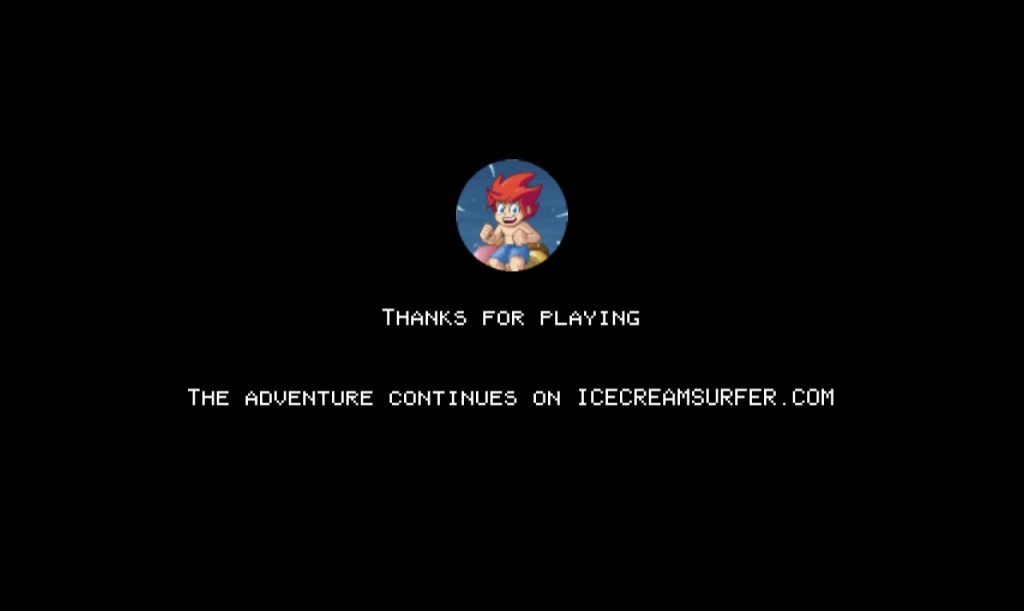 I actually expected this domain to be dead, but I did look. And… it was a cute but aborted webcomic. But from there, I discovered the artist's social media, and that this game was not a one-off vanity project by the creators. In fact, it was the first game from a still-present company staffed by two gentlemen from Spain, one of whom was the comic's author, the other being the coder.
A company that is apparently putting out physical versions of Ice Cream Surfer on PS4 and Vita this Christmas. Seeing that this game got ported made me real curious if the Steam version was just abandoned and it had been improved for consoles, and… uh… It looks like it controls just as bad, at least. The UI has a slight improvement but otherwise, this is the exact same game I went through in an evening, with the same much too loud volume that can't be tweaked in-game, and spritework that looks about the same as it does on my PC at higher resolutions if I don't turn the game to "Fastest" out of spite.
Although I have to give the PS4 version this: the video there doesn't constantly shift resolutions. Every time the game loaded a new scene it'd go to fullscreen in a hitchy fashion, and I'd have to alt-enter it back to windowed. It's really hard to express in words how poorly coded the game is – every time you close it, it unlocks 30/31 achievements for you on Steam, all of which have no icons or descriptions. I've mentioned the control problems. Volume seems to be maxed on every possible sound that comes out of it – I turned the game down to 1% on Windows' own mixer and it was still way too much for me to listen to after a few stages.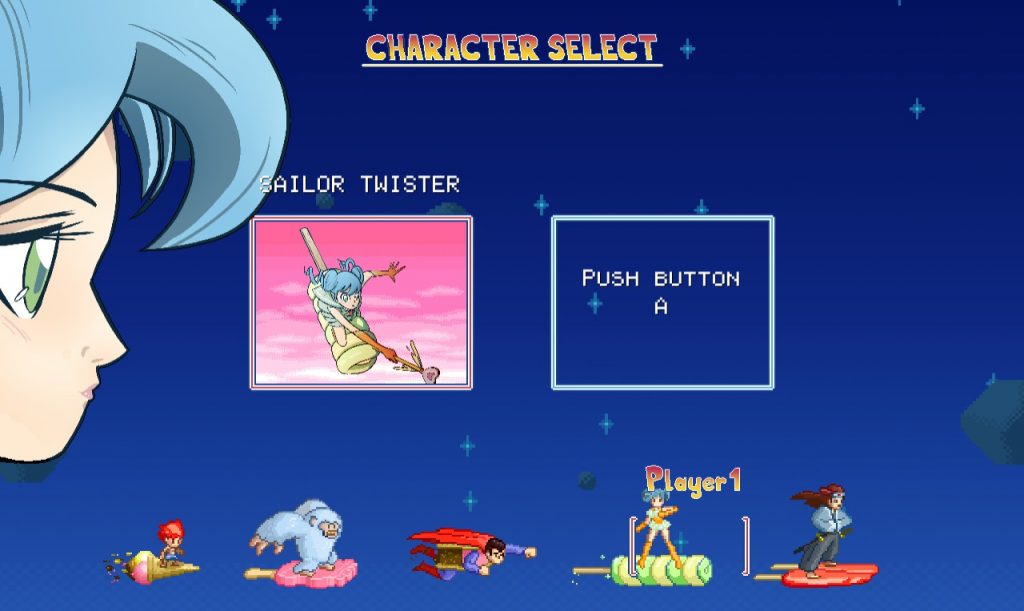 If anything, I'm most curious about what in the absolute hell deals Dolores Entertainment has made to become the publisher for the titles they have. Somehow this is the team who ported indie darling Nihilumbra to Switch and they've worked with a few others in the same role across a variety of platforms now. Reading reviews tells me that not everything is as questionable as this game, so now I'm only left wondering what in the hell happened here?
Or I would be if I wasn't going to absolutely scorch all traces of this game from my hard drive and open tabs when this post goes up, because pee-yew.
Remaining clears before hiatus ends: 25/36
Remaining titles to be written about: 4